Tea parties in Victoria, BC. The teapot is the thing. As mad-hatter as possible. This was the story cover image.
Pour the tea, please, Victoria. The inside illustration. The thing you have to do when you are presenting the same subjects year after year, is to find a fresh way of seeing it for yourself..
How can we get at the real feeling of this experience? Getting away from the usual images of a spa.
Oh, my. It's the inside illustration for Day Spa.
EEK! How it feels to be a kid visiting the terrifying Victoria's Chamber of Horrors.
EEK2! Feeling a little paranoid about hooks after a visit to the museum of horrors.
EEK3! The kid view of the exhibits.
The where to go for a fright on Halloween cover.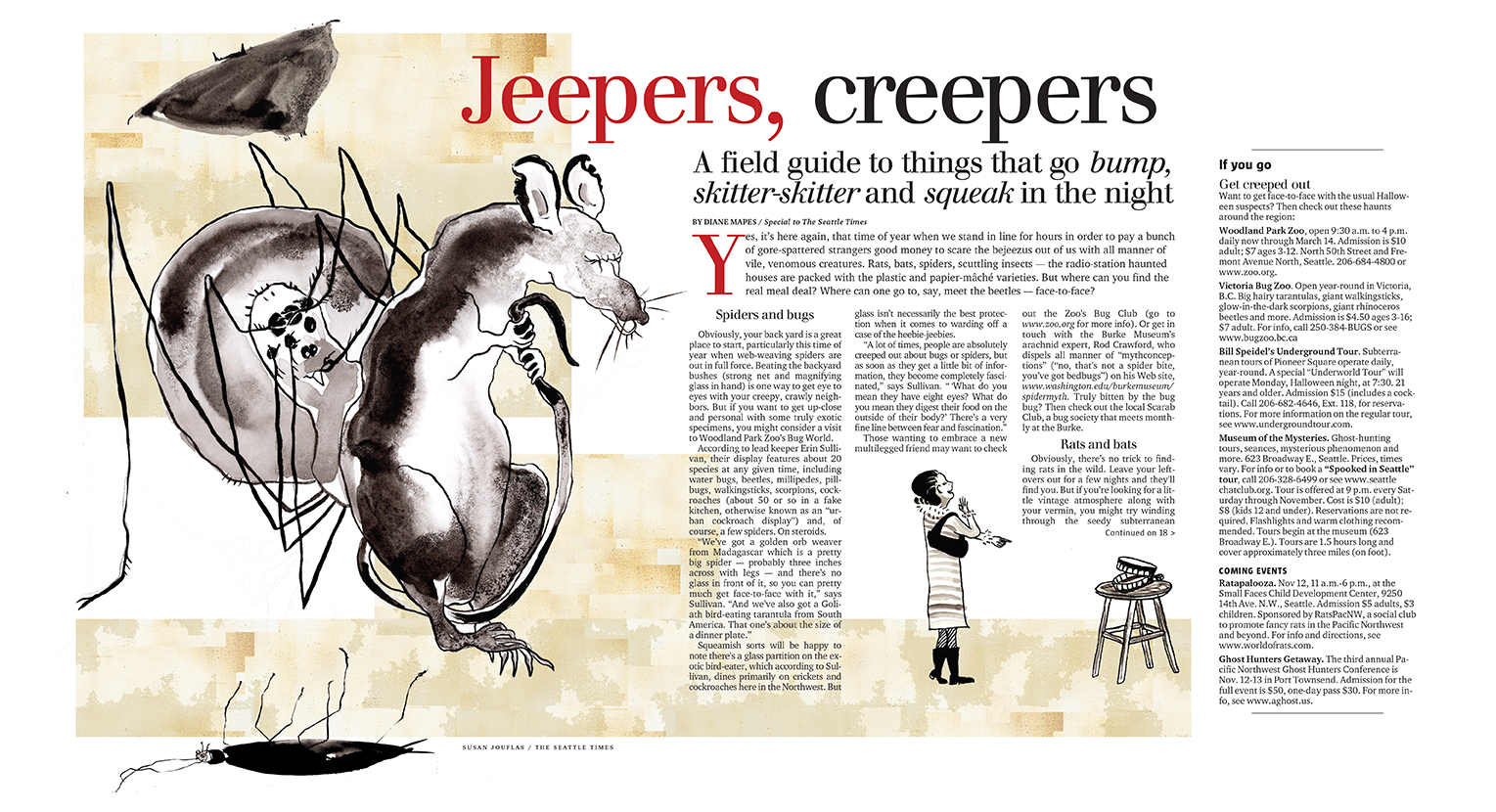 The where to go for a fright on Halloween inside illustration. Who's afraid of whom?
Where to go to see ghosts. Scary Halloween activities.
Where to go to see ghosts ... even if you are a ghost.
Wild weekend of chips and adventure and chips.
The wild Pacific NW coast of chips.
Christmas preparation cover.
Sharing the preparation. Sort of.
Teens who go trick-or-treating after they've outgrown it.
Teaching kids. Trying things even if you don't "win."
Teaching kids table manners.
Holiday Activities cover. Antlers are a nice frame, ready for the headline.
Holiday activities, where to see the lights in Seattle.
Holiday activities. A Dickens of a time.
Holiday activities. The bands of the season.
Holiday activities in the great outdoors.
Holiday activities full of community choirs.
Many types of holiday activites.
Cover for story about squirrel
For a children's story. Squirrel trapped in a garbage truck.
Dimensional illustration for the movie "Oceans."
Illustration for story about tweeting.