How to go hunting for a haunting at Halloween.
How to introduce oneself to those encountered while cross country skiing and more.
A pleasure to illustrate ... I think.
As a child my family visited this museum in Victoria, BC. I remembered it for many years and was able to channel the terror of the exhibits.
Sinad O'Connor. I created the look for this section appealing to a new audience. This page won international recognition. That's great considering it was mostly created using a Xerox machine each day.
This section was mostly about attitude. It was meant to keep the people in Alaska connected to what was going on in the rest of the US and the world of popular culture.
A story about invasive ivy in Seattle. Not a new problem for Seattle, but a new way to present the issue.
Dugald Stermer promo for AIGA.
Another page for the Anchorage Daily News using the copier. We didn't have a large budget. I had to be resourceful and we ran this page 6 days a week.
Elvis for The Seattle Times.
Jazz icons. Innovation in presentation for these great musicians.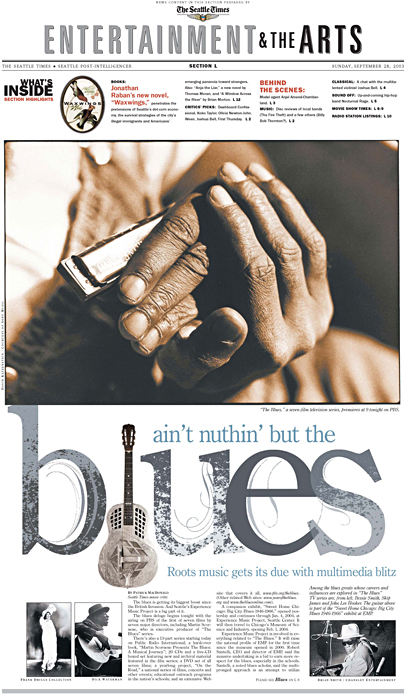 Hands that create beautiful music.
Using motion. A still comes to life.
A busy page. Lots of fun for reader.
Talking about a "blue" subject, why not just be blue? This section redesign ended up winning a billion awards over time. The best redesigns can be easily understood by the designers inheriting them.
What better way to get at a girls' getaway than with unrestrained munching.
Mostly, I think people just wanted to see his face up close.
Ready to do battle with the unknown ... Invigorated by massive chip consumption on a girls' weekend getaway.
A timeline of tulip debauchery. Best to have some fun with this info.
The design live up to it's moment in time.
The whole movie seemed to be encompassed by this image.
A page for a bold landscape.
This was the consummate image for the Grunge days. A simple design was needed to keep up with the action in a busy publication.
The unexpected design makes a page come to life.
A metaphor as an international award winning poster.
The fun of designing for the pose in the photo. Even though the page was a tall broadsheet, he could never stand up;)
Not for reading as much as for the effect of the design.
Film violence. This subject could have been handled in a less violent and intrusive way. But why?
Dangerous cells turn into thoughts that carry them all around the world.
This was a great guy. He would have been good for Seattle if elected. I wanted people to get a good look at him.
They are good at their jobs. Rather than looking at bugs as icky, let's study them calmly. They turn out to be very elegant.
A picture on a busy page that I tried very hard to leave completely alone so the reader could go there on their own.
I wanted to give the design a strong welcoming feeling. The reader already be in the room with them even from the outside cover.
A cooler, more detached design for this band.
Laughing at my pain = comedy.
Getting right at the heart of the opera.
Alas, poor Yorick has a story on his head.
Simple poster for a play.
A metaphor for a sad story.